Holiday season is approaching, and what is better time to spent time than watch anime. And since it's such jolly season- comedy anime.
This list includes animes whose main genre is comedy so animes that are funny, but still more of action, drama etc. like Mob Psycho 100 won't be included. I tried to include different types of comedies.
1. Monthly Girls' Nozaki-kun / Gekkan Shoujo Nozaki-kun (12 ep)
Gekkan Shoujo Nozaki-kun tells about high school girl Sakura who has crush on her classmate Nozaki who happens to be Shoujo manga artist. Due to misunderstanding she ends up being his assistant for the manga he's making. Insert their other goofy classmates who end up helping creating the manga in some ways as well, either finding hidden talents- or simply helping to act out scenes.
Lot of the comedy of Nozaki-kun centers around poking fun at things at popular culture relating to anime&manga, and it's tropes. Other aspect of the anime is romance angle, there is lot of almost couples in the story, but none of them are your normal couple which creates funny situations. I found the anime easy, but very funny watch, I couldn't stop laughing at absurd sheningas happening.
2. Nichijou- My Ordinary Life (26 ep)
Like the title says, the anime is about ordinary life of high school girls. Things that are happening are kinda ordinary- but how they are portrayed is completely absurd. From figuring out how to order coffee in coffee shop to avoiding your crush finding out you have crush on them.. nth is as simple at it sounds. Compined with great and exaggerated animation, Nichijou is simply rly fun to watch.
3. Saint☆Onii-san (movie + 2 OVA)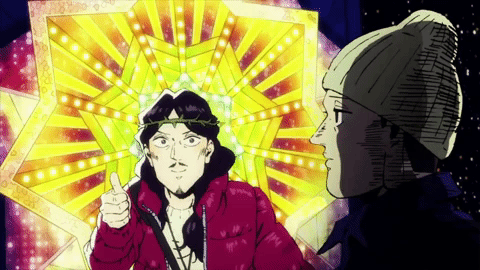 So.. basically Buddha and Jesus are having vacation so they decide to come on Earth and live as roommates for a while. While to humor in this one might be offensive the some, the overall tone is pretty wholesome. Particularly good for Christmas time, cause there is lot of scenes relating to Christmas.
4. Jinrui wa suitai shimashita / Humanity has Declined (12 ep)
Continuing the weird and absurd realm, but going bit towards dark comedy with this one. Humanity is close to extinction and there is new race of people- fairies. Our main "heroine" has gotten quest to research and try to communicate with these fairies so that humans can figure how to coexist with said fairies.
Despite the fairies topics going bit dark at times, they are mostly rly cute and helpful little humanoids. And don't worry, there isn't rly gore or anything like that. Our main heroine only named "Watashi" aka "I" in the show isn't most heroic character either, but that's alright as her ironic take on thing is funny.
Panty & Stocking (13 ep)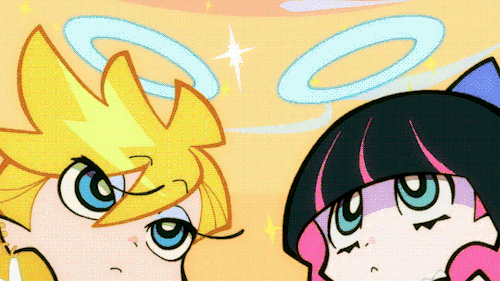 Panty & Stocking's is answer to question: what if japanese animation company tried to do western cartoon? Outcome for this is anime that looks like Powerpuff girls and has humor of South Park. Now, Panty & Stocking is completely outrageous, inappropriate and offensive. Expect nudity, cursing, violence, sexual themes, disgusting stuff, juvenile humor.. I had hard time figuring out what I think of it after watching, I had hard time even figuring if I liked it. But it is very addicting. If you want extra out of that, watch the dub- they went further with the dialogue and curse more.